"Funny how life works. Things we're oblivious to as children have a way of becoming painfully clear as we age. Things we should have done, words we should have said, paths we should have taken. If only we had. How different life might be." ― Ayame Soma, Fruits Basket (2019)
Hi!! Welcome to my profile!! I'm glad you were able to stumble across it. If I can help you in any way please do not hesitate to ask for my assistance. ☀Also, my timezone is CST/CDT.
Get to know me a little bit! (How my life is going rn->)
If you can't tell already I'm pretty dramatic
I love anime and manga but I don't think I watch/read it enough to be considered a hardcore otaku.
I love learning about Japanese culture
I'm a raging manga reader so approach ALL of my blog posts with caution
I like the thought of writing (and I consider myself a writer) but I don't like actually writing. You feel me?
If you can't tell by my favorite characters, I'm more of a background characters type of person
I am forever mentally and emotionally bound in holy matrimony to Sousuke Yamazaki from the Free! franchise
My goals
I hope to eventually be an admin on the Given wiki specifically or at least someone that everyone knows they can come to for help even if I don't have the title. But hey, one can dream.
To become an Olympic figure skater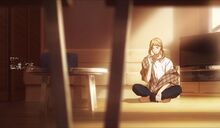 Wikis I've Contributed To
Edit
Community content is available under
CC-BY-SA
unless otherwise noted.