Takuya Eguchi is the voice actor for Akihiko Kaji in the Given anime.
Perspectives on Given
Takuya voiced that it was a very delicate work that he read for the first time during the audition, that each action will permeate your heart.
He felt a sense of closeness that was close to the reader's daily life. Akihiko that he plays is a guy who is scary in appearance but messed up but is a good man.
Takuya concluded reminding that Akihiko is a person, and as his voice actor he will do his best to make the viewer think, thanking them in advance.
He feels closer to the readers everyday.[1]
Takuya's talk to voice actor was the fourth released on the 6/6/2019
Interviews
Images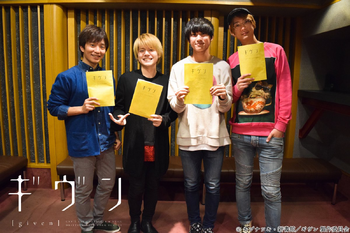 References