code. 13 is the name of the thirteenth chapter of the Given manga.
Overview
Haruki recalls the first time he met Akihiko and how he created the band. The band had a meet-up, they discussed on what they want to do after and created a new name for the band. Mafuyu and Ritsuka went to Yokohama Mirai Minato. Back home, Akihiko shows Ugetsu their first live performance.
Characters
Story
Haruki retells the first time he met Akihiko. He describes Akihiko as a little wild and intimidating. Akihiko was always seen with a violin case, so Haruki figured that he was a music major. Coincidentally, around that time, Haruki's band was breaking apart and he met Ritsuka, the new young prodigy.  There was a rumour that Ritsuka's band was on the verge of breaking up too, due to frequent clashes between the members. Haruki had the intention of recruiting Ritsuka but he felt like it was pointless since they don't have a drummer.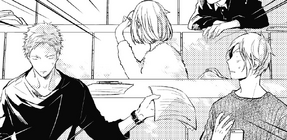 One day, as the class was busy passing out course outlines, Haruki was surprised to see Akihiko sitting next to him. He noticed that Akihiko had a snare drum. Haruki, believing that that moment was a turning point in his life, gathered his courage to ask Akihiko if he's a drummer. It was also the first time Haruki saw Akihiko's full profile. He saw Akihiko's eyes were subtle green as the sun beams on him. By winter, Haruki finally introduced Akihiko to Ritsuka and by new year, they formed the band.
Haruki thought that everything that happened was a miracle and he had never imagined that one day he would have Akihiko sleeping on his couch. Haruki fawned over how cute Akihiko is while thinking of filming it. He said that he was satisfied with his one-sided crush on Akihiko. However, ever since he heard Mafuyu's song, he had felt lonely. He wished that he had a girlfriend.
The band is having a meet up at a diner. Haruki presented a USB to the band, explaining that it contains a video of their live performance. He then proudly shows Mafuyu and Ritsuka the video. Haruki and Akihiko had watched the video together prior to their meeting. Haruki said that a friend of his is interested to have them play as the opening act at his club in Shibuya. Mafuyu responded enthusiastically that he wanted to do the show. Haruki then asked what he wanted to do from now on, as they had only planned for a one-and-done show.
Mafuyu who was frozen for a moment suddenly describes how hot the stage lights were and he doesn't remember much about that day. He said that he had felt some sort of redemption. Mafuyu also said that it was hard to put into words, but he wanted to perform again and he wanted to write another song. The band unanimously agreed with Mafuyu by putting meat into his plate.
They started discussing their band name. Akihiko stated that when it was just the three of them, they were named "The Seasons", because the three of them have "seasonal" names. He also said that "The Seasons" has built a reputation as a three-piece instrumental band so it was a good idea to start picking out a new name with the addition of Mafuyu. Ritsuka suggested adding another word. Mafuyu suggested the word "Give", explaining that his guitar was given by his boyfriend's mother. Mafuyu said that he thought it was a curse at first, but now it's his new beginning. Akihiko combined the word "Give" and "Seasons" which ends up being "Given", the band's new name. Haruki and Ritsuka agreed and immediately resumed their dinner but Mafuyu felt disappointed as it ended too quickly. They passed down all ideas for promotion towards Haruki and Haruki jokingly said that he'd take a bigger cut if they start earning money.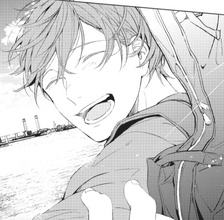 Days later, Mafuyu asked if Ritsuka had other plans some time later. Ritsuka then said that he doesn't have any money so he can't go anywhere far but he'll take Mafuyu wherever he wants, leading both of them to Yokohama Mirai Minato. Without any prior notice, Mafuyu started running which made Ritsuka panicked. Ritsuka was feeling conflicted because Mafuyu looked sad and lonely before, but he is now smiling brightly. Mafuyu said that it's his first time coming to Minato Mirai and the place looks like a good dating spot. Then, Mafuyu confessed to Ritsuka.
Akihiko returns home. Ugetsu asked him why he's so excited and kept grinning so Akihiko showed him the band's live performance uploaded online. Ugetsu said he didn't know that bands are uploading their own footage these days and he thought that they are all low-tech. He said that the footage is not bad, but also not great as it is only a fraction of the actual live. Ugetsu thinks that with the right trigger, Akihiko would someday evolve too.
Notes
Community content is available under
CC-BY-SA
unless otherwise noted.